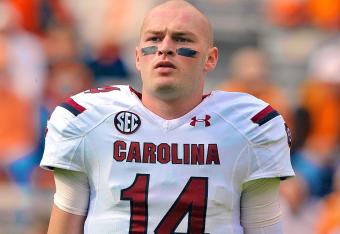 South Carolina quarterback Connor Shaw revealed on his Instagram account earlier today that he will play in the NFLPA Collegiate Bowl on January 18th in Los Angeles. Shaw quietly was one of the best quarterbacks in the SEC this year leading the team to a 10-2 record. The biggest win of the season was when he came off the bench in the second half to lead the Gamecocks in a come from behind win over top Missouri on the road in October.
Shaw has rushed for 511 yards and 5 touchdowns and was one of the most accurate passers in the conference throwing for 2,135 yards and 21 touchdowns. The most impressive stat is that he only threw one interception all season. Shaw defeated Clemson last week to finish with a 26-5 record for his career which makes him the all time leader for the school.
It's thought that Shaw will be a mid to late round pick in the NFL Draft but with a good showing in the team's bowl game and the NFLPA Collegiate Bowl he could move up if he combines that with a good showing at the NFL Combine.