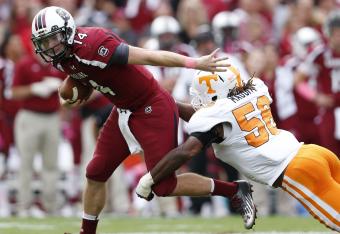 Connor Shaw is one of the most underrated quarterbacks in the SEC. With AJ McCarron, Aaron Murray, and Johnny Manziel getting all the limelight Shaw has been under the radar for most of the season. But the Gamecock senior has thrown 10 touchdowns with no interceptions. He has also ran for over 300 yards.
One person who hasn't overlooked Shaw in his coach Steve Spurrier who told The Post and Courier that he believes Shaw will play on Sundays next season.
"He's an excellent player, and he's so much better as a passer. Anytime a quarterback can run like he can, the general thinking is he must not be a great passer because he can run so well, but his ball has gotten better this year and that's because his foot is 100 percent healthy and he's just played a lot more. He's an excellent passer.

Connor is doing very well. I really believe he's going to have a chance to play some pro football. All those pro teams hoping to have running quarterbacks, you can see the importance.

Connor is playing at a high level. All you've got to do is look at the statistics of how he plays. We were sitting in there talking (Tuesday), the Houston Texans have thrown a pick-six in five straight weeks. And I said, 'Has Connor Shaw ever thrown one?' I don't think he has. We were trying to figure out the last pick-six we had.
Should South Carolina run the table and beat Florida, Clemson, and Alabama in the SEC Championship game it's possible the Gamecocks could play for a National Title. If Shaw were to beat Clemson, Alabama, and Oregon in just a few weeks he might even get thrown into the Heisman mix.
The early consensus on Shaw is that he is a mid to late round pick in next year's draft mock drafts and there was a rumor that he might move to running back to play in the NFL. But the truth is there still is a lot of season left to be played and nothing has been decided.